Diana Larrea
---
Diana Larrea works in various disciplines such as installation, video and photography. She has done numerous performances and interventions in public spaces, where she has always aimed to take the non-initiated public by surprise by suddenly installing an unexpected piece within everyday reality. In her first performances, Larrea would introduce chromatic elements in the urban landscape to disturb the citizens' everyday perception. The documentation of these pieces, in video and photographies which comprise the art work, shows the reactions of the passers by.
In more recent works, Larrea has based her pieces on myths of the History of Film and the History of Art. She has concentrated on certain icons who have been turned by society into cultural paradigms.
She has received, among others, the following prizes: the grant Fundación Marcelino Botín, the prize Vida 6.0, Fundación Telefónica, first prize for urban sculpture in the IV Bienal de Artes Plásticas de Alcorcón, and the grant Generaciones by Obra Social Caja Madrid.
She has participated in ARCO, the Torino art fair, and the MACO art fair (Mexico DF); as well as in the biennials of Pamplona and Pontevedra. She has had solo exhibitions in the Garage Regium gallery (Madrid) and in the now closed Galería Doblespacio (Madrid) . She has also shown her work in group shows at the Círculo de Bellas Artes (Madrid), Casal Solleric (Palma de Mallorca), Casa de América (Madrid) and, internationally, at Galerie Wieland, Berlin (Germany) and Gallery Kobo Chika, Tokio (Japan) . She works with Galería Vacío 9 in Madrid.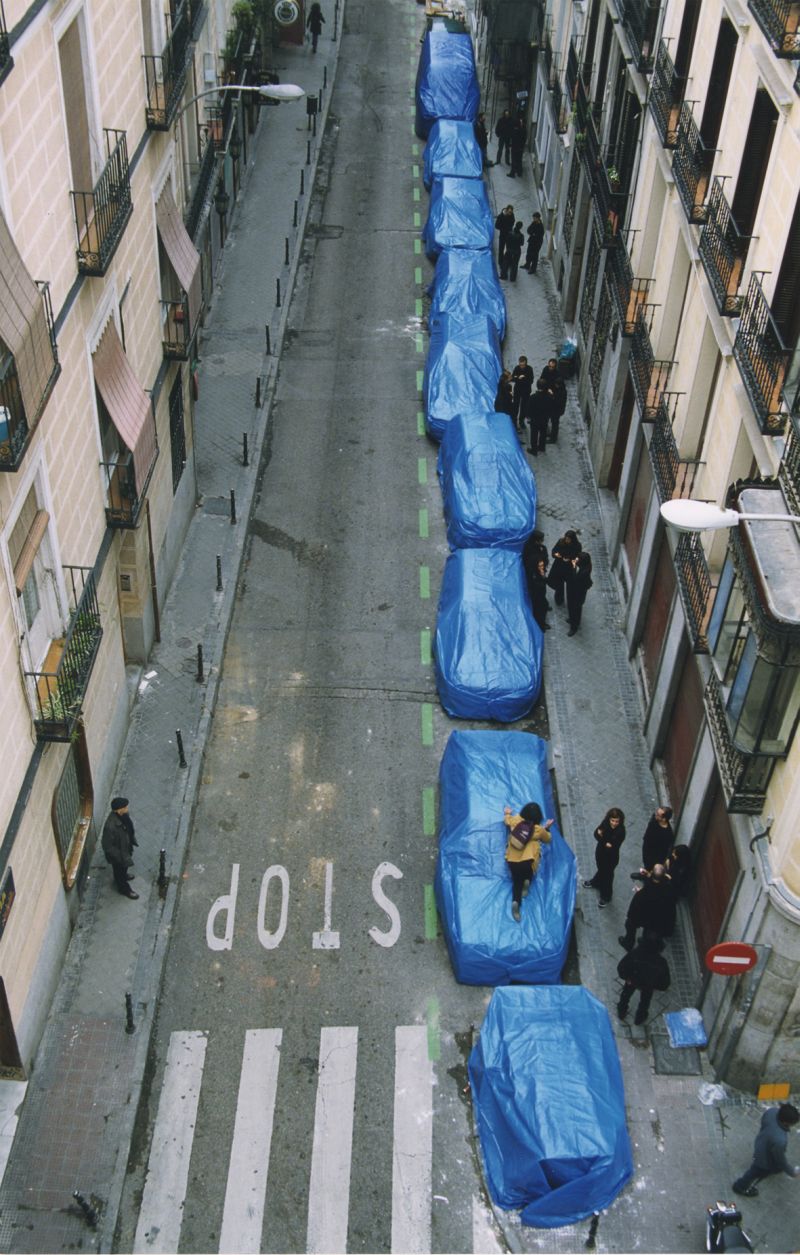 Statement
"In Diana Larrea's works, installation, video and photography intertwine and complement each other. The aim behind her performances in public spaces is to disturb the spectator.
In "Caso público: intrusos" Larrea set up human fences in the streets of Madrid. Passers by reacted in a million different ways to the unexpected obstacle, and the recording of these reactions completed the art work. In "Caso público: fuente", she dyed red the water of a fountain in a square, and in "Caso público: zona azul" she dressed in blue covers the cars parked on the street.
In other works she alters the landscape by introducing classic film scenes. For instance, in "The End", the Statue of Liberty is shown half buried in the sand of Cala San Vicenç in Pollença (Mallorca), in reference to the final scene of "Planet of the apes"."
Fátima Uribarri. Guía de Arte Español Contemporáneo [Guide of Spanish Contemporary Art]. Época.