Marta De Gonzalo
---
Marta de Gonzalo and Publio Pérez Prieto (Madrid 1971 / Mérida 1973). Both live and work in Madrid since 1996, after meeting in the Rietveld Academie of Amsterdam. They have exhibited their work in the Fundació Espais d'Art Contemporani, Girona (2005), MediaLabMadrid (2004) and the MEIAC, Badajoz (2002); and part of the group shows Ahalegina / Esfuerzo. Koldo Mitxelena Kulturunea. San Sebastián (2004); Banquete. Metabolismo y Comunicación. C. C. Conde Duque. Madrid; Corpos de Producción. Santiago de Compostela (2003). Dé[s]règlements. Galerie Art & Essai. Rennes (2002); Ecosofías. Sala Amadís, Injuve. Madrid (2001). Their audiovisual work has been screened at the Filmoteca de Andalucía. Córdoba (2005); Zinebi 46. Museo de Bellas Artes. Bilbao; O lugar do corpo. Centro ON. A Coruña (2004); El cine del afuera: el espíritu del retrato. Sala Kutxa and Arteleku. San Sebastián; Just do it. Gènere, performativitat i narratives del treball. 11 Mostra Internacional de Film de Dones. Barcelona and Monocanal. MNCARS [itinerant] (2003). They are presently working on a long term project on education for visual literacy with the collaboration of the Education Department at the Museo Patio Herreriano and MediaLabMadrid.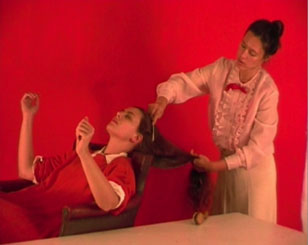 www.martaypublio.net
Statement
Artists working with non-mechanised formalisations and a complex poetics on an aesthetic attitude for an active reception critical of reality.