HAMACA Screening Programme at 69th International Short Film Festival Oberhausen 2023
April 27, 2023 Oberhausen. Germany.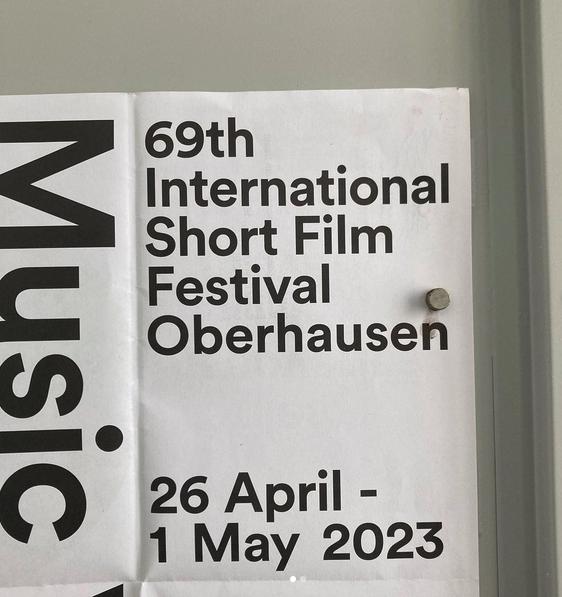 27 d'abril 2023 | 12:45 h
HAMACA is screening at the 69th edition of the International Short Film Festival Oberhausen: Distributor's Section & Expanded Cinema "Non-repeatable".
The Oberhausen Festival is a key space for the dissemination and defence of experimental audiovisuals, which every year brings together productions from alternative circuits on a global scale. This year is the 69th edition and HAMACA has been invited to take part in two of its programmes: the International Distributors Section and the Expanded Cinema Section. As a result of this collaboration, we present a screening itinerary to exhibit, make visible and make travel pieces from the catalogue of experimental video-creation recently incorporated, tracing a journey through contemporary creations produced by various generations and languages of experimental audiovisual. A space for meeting and socialising that brings local video creation closer to other contexts, promoting links with a wide network of creators, producers, distributors and observers.

Participating in the Distributors Programme:
The screening takes place on Thursday 27 April 2023 at 12:45h in the Sunset-Lichtburg Filmpalast Cinema (Elsässer Str. 26).

Your Eyes are Spectral Landscapes is the performance by Luis Macias, in collaboration with electroacoustic composer Alfredo Costa Monteiro, which we present in the section "Non-repeatable" dedicated to Expanded Cinema. This author of the catalogue explores media and devices from a sensorial and experiential sphere through two pieces: Spectral Landscape and No puedo ver el sexto sol [I can't see the sixth sun]. Film performance as a field of exploration of nature, the human worldview and the impulse to make sense of the world we inhabit. And how, at times, the impulse to understand can only lead to the logic of control and, ultimately, destruction.
The session takes place on Thursday, 27 April 2023 at 23:00h at Verein für aktuelle Kunst (Hansastraße 20).
→ More information about the festival
With the support of: